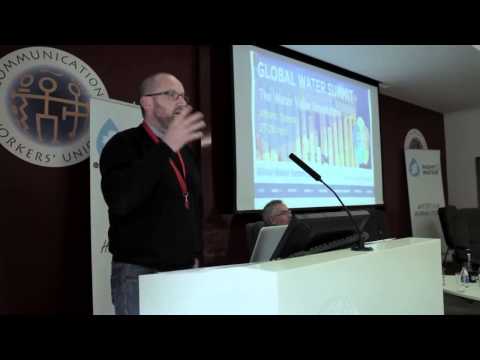 Another great and well-encapsulated talk on how the whole system works against the people worldwide and how Ireland is showing itself to be the worst of the lot. Few people have ever been able to explain in 15 minutes what it would normally take 3 days to hear. Frankly, thought there is none so blind as he who will not see and the electorate in the main are dumb and like it that way.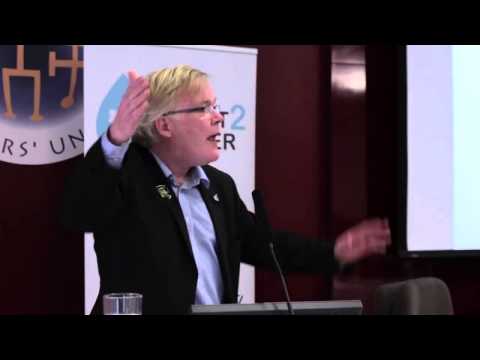 This man speaks brilliantly, lucidly and not only in condemnation of Ireland in particular but of the economics of life in other countries and moreover makes it clear that accountancy is the cancer of society. Everyone in school should be shown this, not to mention the electorate but it's too dumb to do so. The forthcoming general election should be a watershed…but will it be?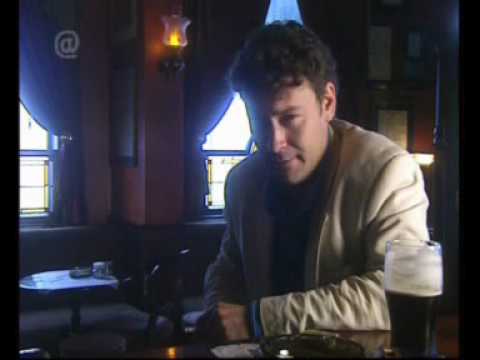 THIS IS BRILLIANT Tom Prendiville tells the future. The same 10 times lending rate was only available in the US and Ireland!!! JAYSUS! And where was the Go-vern-ment and Cops in all this? Nowhere because they don't rule the world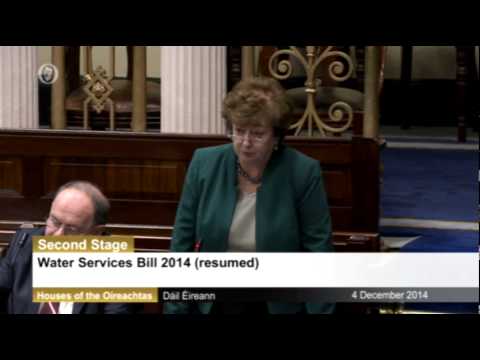 Catherine Murphy TD questions water meter installation contracts in the Dáil. Published on 5 Dec 2014 Catherine Murphy (Ind – Kildare North) raises some questions in the Dáil regarding the company which was awarded a contract by Irish Water to install water meters. Debate was at second stage of the Water Services Bill, 2014. You couldn't make it up – especially what happened next in April when she again raised the questions which were unanswered.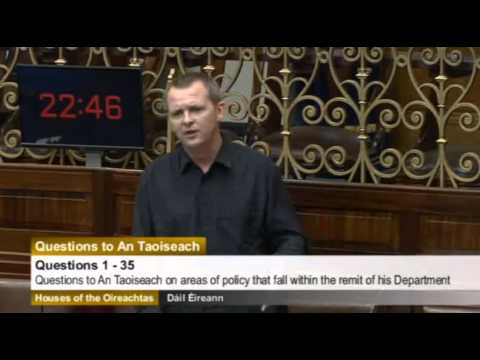 Published on 25 Mar 2014 Richard Boyd Barrett TD tackles Taoiseach over encouraging speculators to profit from Irish housing crisis in Dail during Questions to the Taoiseach on Tuesday 25th March 2014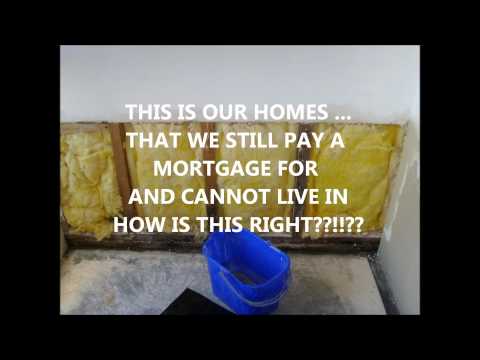 Note: This matter was finally resolved by the government in December 2014.  It is a remarkable story. A builder who has no sense of responsibility for it; a government that left the building industry to 'self-regulation' that led to it (and many another like it throughout the country) was like leaving the Fox in charge of the hen house; and the desperate unbelievable penniless plight of the people who have been through hell. And the main men riding the roost? The bankers of course – they lent the money against a worthless asset with full knowledge as they always employ
[More]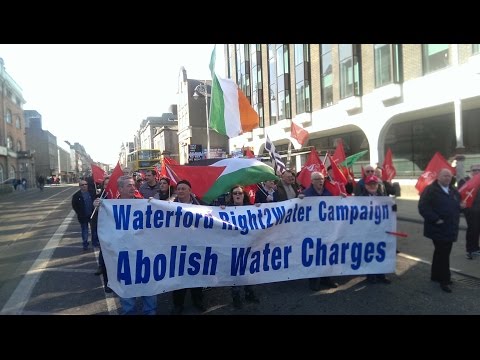 Anti-water charge protest, Dublin – March 21st 2015 Published on 21 Mar 2015 Thousands converge on O'Connell street in Dublin to demonstrate agains water charges on Saturday, March 21st 2015. Video:Pamela Duncan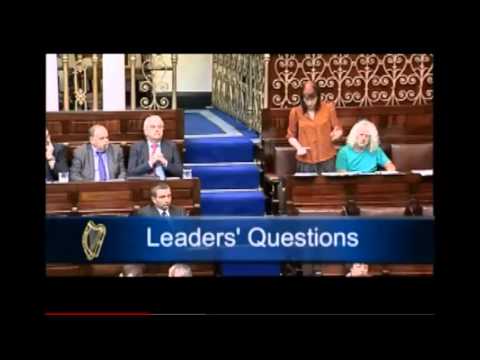 Clare Daly asks Irish Finance Minister Joan Burton what action the government proposes to take in regard to the Anglo-Irish Bank bailout, especially in light of the recent release of the 'Anglo Tapes'. It's interesting that the Irish Independent newspaper, which leaked these recorded phone conversations between Anglo-Irish bankers at the outset of the financial crisis in Ireland in 2008, sat on these tapes for some time (how long is unknown), and that the Irish government has asked them to curtail the release of further recordings because of its "concern about the potential consequences of the emergence of certain other
[More]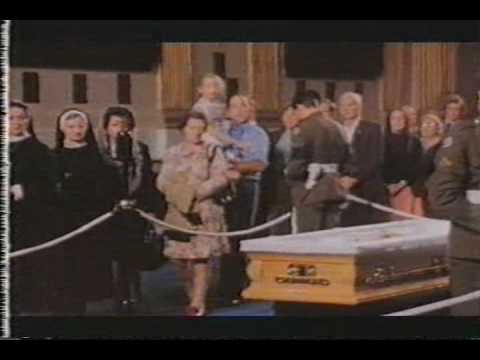 And this is a perfect reflection and summary account of the person he was. Makes you really wonder what he would have thought of the yokels that have ruined the country since he died.
Here is a classic expose of DeVilera's duplicity and his idiotic posturing. This introduction to the position he took when Churchill wanted him to support the war effort. Neutrality made have been a cool thing to do if it was a decision behind closed doors but what failed him for that to be possible, was that DeValera treated Irish soldiers who went and fought in WW2 and returned later in the most abominable fashion. To my mind he and his Fianna Fail party were like Pol Pot in Cambodia without the largesse of murder of bodies just murder of minds.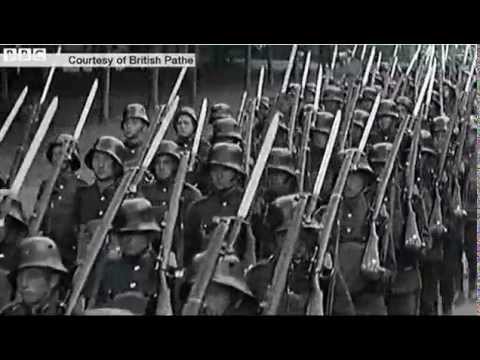 Ireland's shame is simply a reflection on the tyrants who ran the country after 1922 and even up to today. DeValera and his henchmen – the Fianna Fail Party largely – behaved like fools and like the Berlin Wall, were brought crumbling down by honest decent people who recognised the truth. This event in our country's history will ever stain the memory of those who made a laughing stock of themselves by their actions but especially by their actions on these incredibly brave Irishmen who went to war for decency. I has to be remembered too, that Irishmen have fought
[More]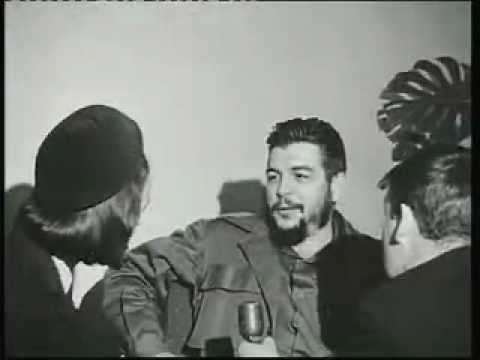 Rare interview with the great man, Che Guevara, when he arrived in Ireland in 1964. He was killed in 1967 making this interview all the more poignant. Not many people realise that he was the son of an Irishman named Ernesto Guevara Lynch. Note: The first 20 seconds or so are silent.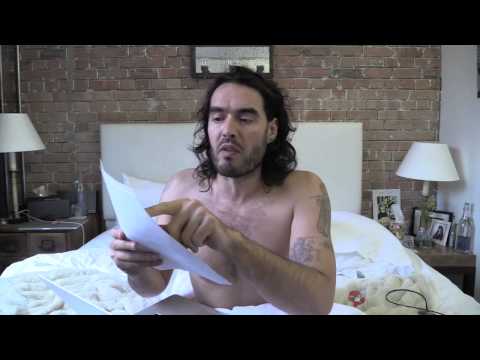 Corrupt Irish Water Robbery – A Greek Revolution Needed? Russell Brand The Trews (E254). Reaction to the news that several protesters were arrested in Ireland following the protests in November against a water charge.